2014 Award Recipients
The CARITAS Project, its Advisory Board, and its Award Judges and Partners are delighted to announce the Award Recipients for the Fifth Annual Generative Space Award.
---
Project Title: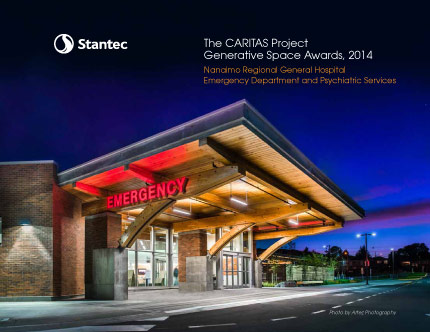 The Caritas Project in describing Generative Space says:" Imagine living in a world that naturally provides us — each and every one of us — with all the environmental conditions that create an experience of flourishing. Imagine our living spaces being like this, or our workplaces, or even our communities". The project presence here does exactly that. Sparked by the challenge to create an "environment that staff would want to come to on their day off", the new Emergency Department and Psychiatry Services at Nanaimo, BC, Canada may be the first in the world to include nature imbued courtyards within actual patient treatment zones. The design established design goals and objectives, and sustainability strategies to achieve a LEED® Gold solution around the values of Timely, Respectful, Quality Care, and A Place People Would Want to Come to Work. Documented evidence supports a flourishing environment for patients, visitors, staff, and community.
Primary Contact:
Suzanne Fox
Director Emergency Service & Trauma Care
Vancouver Island Health Authority
1200 Dufferin Crescent
Nanaimo, British Columbia V2T 2B7
Canada
E Suzanne.Fox@viha.ca
The complete submittal is provided for your information.
(click to download).
Judges' Comments:
'Nanaimo demonstrates the high benefits of an informed and skilful design-led response to creating generative space in a challenging environment. The economic case that the designers put up to support their humane approach to bringing daylight into an often deep-plan department also shows their determination to argue the case for generative space on terms that the hospital authority would respect.'
---
Project Title: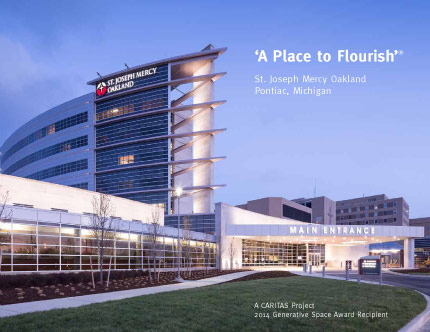 St. Joseph Mercy Oakland (SJMO) is a 443-bed comprehensive medical center in Pontiac, Michigan. Since 2006, SJMO has been revitalizing its physical facilities and its organizational culture. The new patient tower opened in 2014 demonstrates how physical design can manifest and amplify the social systems that are the soul of this organization. SJMO is committed to the personal, connected journey of all of its stakeholders—patients, families, staff, community members, and the community as a whole. The personal journey toward flourishing can only be made through a supportive web of caring connections. As this application shows, SJMO is a national leader in using technology to improve crucial outcomes, and the new tower fully honors evidence-based design principles. But SJMO's heartbeat resides in its collaborative and empowering practices, its continuous institution-wide learning, its relationships with its widely diverse patient communities, and its determination to deeply support the flourishing of all stakeholders.
Provider Primary Contact:
Jack Weiner
President & CEO
St. Joseph Mercy Oakland
44405 Woodward Ave.
Pontiac, MI 48341
USA
E – weinerj@trinity-health.org
The complete submittal is provided for your information.
(click to download).
Judges' Comments:
'SJMO is an excellent exposition of delivering truly generative space in practice…It clearly demonstrates the relationship between the overall planning of the project and the principles of generative space. These seem to have been embedded in the genetics of the project team and clinicians from the outset, and they guided their decision-making and downstream approach to organizational development around underlying values and their associated behaviors.'

---
2014 Generative Space Award Judges
Sally Augustin, PhD
Principal, Design With Science; Editor, Research Design Connections

Tama Duffy Day, MFA, FIIDA, FASID, LEED AP BD+C
Firmwide Health & Wellness Practice Area Leader, Gensler

Simon Henderson
Head of Cancer Environments, Macmillan Cancer Support

BJ Miller, FASID, CCIM
President, The Vision Group Studios

Dr. Mark Rowe, GP
Medical Director and Founder, Waterford Health Park

Dr. Wayne Ruga, FAIA, FIIDA, Hon. FASID
Founder and President, The CARITAS Project
Thank you for your interest and support of this program. Together, let us work to create a world made up of 'A Place to Flourish', everywhere and for everyone.